AI-enabled Contract Review Platform "LegalForce" Adopted by More Than 1,250 Customers including Law Firms

~Over 1,000 Corporate Customers~
LegalForce, Inc. is pleased to announce that more than 1,000 companies have implemented its AI-enabled contract review platform "LegalForce" as of the end of September 2021. As a result, the total number of customers including law firms has exceeded 1,250.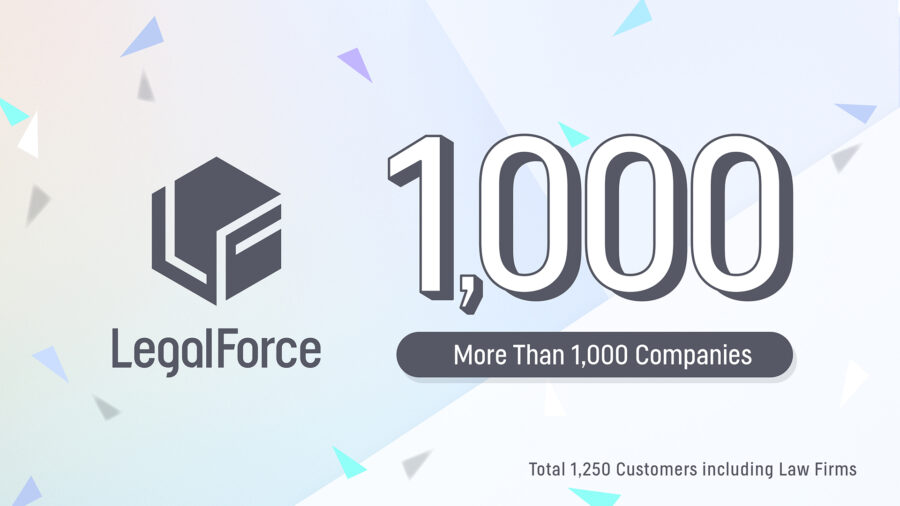 What is the AI-enabled contract review platform "LegalForce"?
"LegalForce" is an AI-driven product that simultaneously enhances both quality and efficiency of the contract review process. It provides automatic review by its proprietary AI technology, a flexible search by article, and a variety of contract templates and formats. The platform is also useful for knowledge management as it accumulates historical records of the contract review.  Launched in April 2019, the product has grown to be used by over 1,250 paying customers, including companies and law firms,  in about two and half years.
Why do corporate customers choose LegalForce?
One of the reasons why "LegalForce" is chosen is that we add new features and make improvements in a fast cycle to solve our customers' problems.
The "in-house standard review" function, released in September, was developed in response to requests from customers who wanted to customize the contract review criteria in accordance with their own rules. In addition, this fall, we will provide functions that are more in line with contract review practices, such as a "case tracker" that streamlines communication between the business and legal departments, thereby improving the efficiency and quality of contract work.
The company is always looking to expand functions and provide new services in order to meet its customers' potential needs.
Release and updates in the last 3 months
Here are three noteworthy features released after July 2021.
| | |
| --- | --- |
| In-house standard review | This feature allows customers to review contracts against their own criteria. They can smoothly check not only general issues with the AI-review, but also issues specific to them. |
| In-house template library | A dedicated library for in-house templates allows customers to manage them separately from other documents. |
| Expansion of AI-review coverage | "English Business Lease Agreement," "Character Merchandising License Agreement," and "Trademark License Agreement" are newly available for AI-review. |