Product Launch of Cloud Contract Management System "Marshall"
Fully automate data entry tasks for contract management 
LegalForce Inc. (Headquarters: Chiyoda, Tokyo  CEO: Nozomu Tsunoda; hereafter referred to as "LegalForce") is pleased to announce the product launch of the Cloud Contract Management System "Marshall", which has been available as Open Beta since August 2020.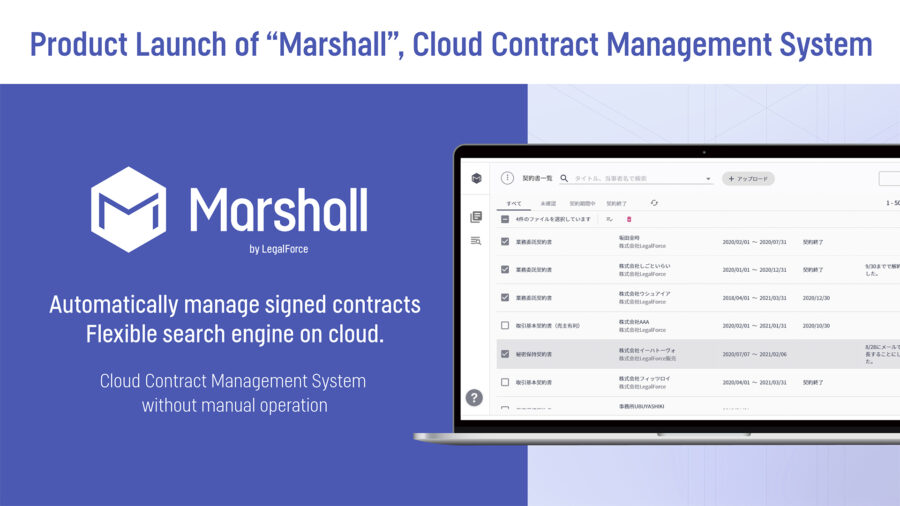 About Cloud Contract Management System "Marshall"
It is a system that automatically extracts the data from documents for contract management by the natural language processing and machine learning technology cultivated through the development of our AI-enabled contract review platform "LegalForce".
By simply uploading your contracts to "Marshall," metadata, such as the title, date of execution, contractor name, and start and end dates, are automatically extracted and stored as a searchable database.
As of January 2021, 60 companies have installed the product and succeeded in streamlining their contract management tasks.
At the same time as product launch, the company are offering a one-month free trial on the Marshall service site.
▽Visit us here to inquire
Improvements from Open Beta Version
Major functions added or improved after August 2020 are API linked with e-signature vendors, the "Contract Group Function" that controls access rights to contracts by users, the improvement of support for English, and more. In addition to those updates, more than 60 releases, both major and minor, are implemented such as exporting comprehensive contract lists, addition of extractable information (renewal conditions, language information, etc.), and search result filters.
Thanks to feedback received from the 200 customers that participated in the open beta test, we were able to officially launch the product.
Future Expansion
As a contract management system, the following functions are under development to support the "fulfillment" of contracts; renewal term management, expansion of partners for e-signature, strengthen knowledge management functions by linkage with our flagship product, "LegalForce," and more. The company is also working on localizing the software for languages other than Japanese and English and expanding items for automatic extraction.
In addition to contracts, LegalForce has received requests for solutions to the issue of properly managing and storing documents in office cabinets such as "purchase orders", "quotations", "meeting minutes", and more. Thus, in the mid to long term, we plan to develop Marshall into a "Smart Cabinet" that can organize, manage, and store all these kinds of documents.
By leveraging the knowledge of LegalForce Research, an AI research department established in December 2020, the company continues to create a high-quality product that meets the diverse analytic needs of users.
LegalForce will continue to develop and provide software that improves the quality and efficiency of corporate legal operations by cutting edge technology with legal expertise.
■ About LegalForce Inc.
LegalForce, Inc. was founded in 2017 by two corporate lawyers from one of the top law firms in Japan. It develops and provides cloud-based software that improves the quality and efficiency of corporate legal operations by proprietary AI technology with legal insights. As academic initiatives, the company jointly researches with Kyoto University on artificial intelligence and natural language processing, and sponsors various academic conferences, etc. LegalForce, Inc. launched AI-enabled contract review platform "LegalForce" in April 2019, and Cloud Contract Management System "Marshall" in January 2021.