LegalForce, Inc. to raise approx. JPY 13.7 billion in Series D round  SoftBank Vision Fund 2, Sequoia China, and Goldman Sachs join as new investors ~Cumulative Amount Raised: approx. JPY 17.9 billion~
LegalForce, Inc. (hereinafter LegalForce), a provider of contract review platform "LegalForce" and of AI-enabled contract management suite "LegalForce Cabinet", announces it is to raise approx. 13.7 billion yen in a series D round. The total amount to raised by equity since the seed round is approximately 17.9 billion yen after  the Series D round.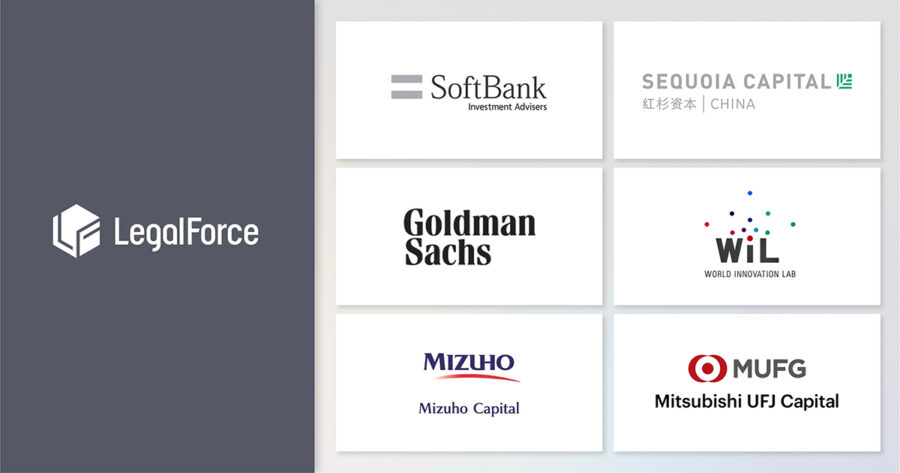 Total approx. JPY 13.7 billion to be raised
LegalForce is pleased to announce that the company is to raise a total of approx. JPY 13.7 billion through a Series D private placement led by SoftBank Vision Fund 2, with the participation from Sequoia China, Goldman Sachs, and existing investors including World Innovation Lab(WiL), Mizuho Capital, and Mitsubishi UFJ Capital.
The funds to be raised will be invested in accelerating recruitment, research and development, and sales and marketing  in order to realize our mission of "Manage all contract risks anytime, anywhere."
About LegalForce
To improve the quality and efficiency of legal operations, the company develops and provides software that manages contract risk by combining cutting-edge technology and legal insights.
■What is the Contract Review Platform "LegalForce"?
"LegalForce" capitalizes on a natural language processing technology to automatically look up a predefined checklist by contract types, instantly detecting risky or missing clauses. With the "Smart Checklist" as its core function, the product provides a function of research, editing, knowledge sharing, case tracker, comparison, and totalizer of contract reviews that the quality and efficiency of contract operations.
It is equipped with a function that simultaneously improves the quality and efficiency of contract work. Launched in April 2019, the product has grown to be used by over 2,000 customers including companies and law firms in three years.
■What is AI-enabled Contract Management Suite "LegalForce Cabinet"?
Launched in January 2021, the product has grown to be used by over 300 customers in 11 months. By just uploading contracts to "LegalForce Cabinet", a proprietary AI automatically extracts key information such as title, party name, and contract term, creating an all-in-one database on the cloud so that users can instantly find the contracts or terms they need. Moreover, the automatic renewal management function prevents unintended contract cancellation due to non-renewal and unnecessary continuation of contracts.
Comments from investors newly participating in this round
■Kentaro Matsui, Managing Partner at SoftBank Investment Advisers
"Facing a shortage of lawyers and increasing pressure for operational efficiencies,corporations and law firms in Japan are seeking innovative solutions to support their legal operations. Through its software platform, LegalForce uses AI and machine learning to support the end-to-end lifecycle of contract management, thereby reducing workload and improving the accuracy of contract reviews. We are excited to partner with Nozomu Tsunoda, Masataka Ogasawara, and the LegalForce team to support their goal of using AI to improve the quality and efficiency of legal operations."
■Rock Wang, Managing Director at Sequoia China
"As the leader and exceptional innovator of legal-tech SaaS company, LegalForce enables companies to digitize the legal process and radically transform how they contract. We look forward to supporting LegalForce to continue their growth and scale impressively."
■Stephanie Hui, Global co-head of Growth Equity at Goldman Sachs Asset Management
"A digital revolution is taking place in the legal market with the embrace and application of technology by law professionals to increase productivity and mitigate risk. Through its proprietary AI software and sectoral expertise, LegalForce is positioned to capitalize on and lead that disruptive transformation in Japan."